Peanut Butter and Cupcake interactive read-aloud and lesson plans about building friendship.
Peanut Butter and Cupcake is a great book for building classroom community at the beginning of the year.  I chose it because it has a simple plot that is easy to for kids to comprehend and practice retelling.  Its cute message is a perfect springboard for talking about friendship.  The darling photographs and rhythm make it a fun read for kids. My first graders are sure to remember this book all year long.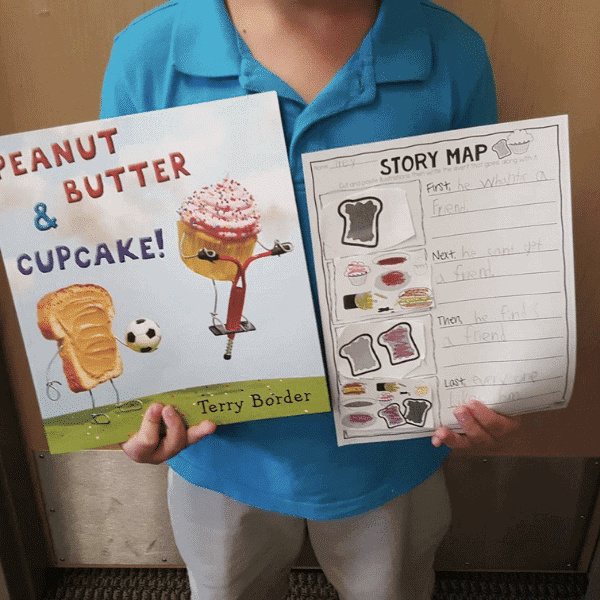 During the first lesson, students completed a simple story map and made stick puppets to practice retelling. I put students with a partner to practice retelling the story. They loved to repeat the signature phrase from the book as they retold the story.
In the second lesson, we revisited and discussed the humorous phrases for better understanding. It is interesting to note that many students don't fully understand the humor in the story until you really dive into it and discuss why it is funny. As the students caught on to the humor they laughed and laughed. This lesson made their love for the story grow. They loved completing the funny phrases worksheet. Read more about how I dive deeply into text  to meet all those other "hard to teach" literature standards with new and current books.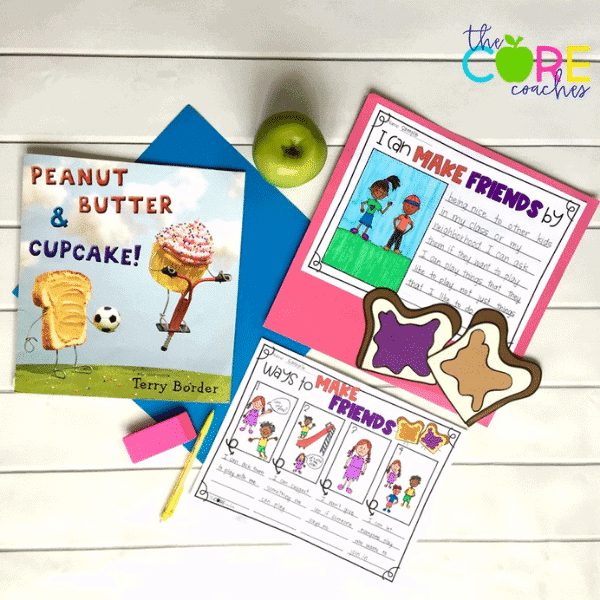 On the third and fourth days students used what they learned from the story to write ways they can make friends at school.   As a class we discussed ways to make friends and how to be a good friend. We watched this video and charted some of our ideas.
The students brainstormed their own ways to make friends, then wrote how they can make friends, and accompanied it with a cute peanut butter and jelly craft.  Their writing made the cutest bulletin boards!  
Best of luck as you start the new school year.
-Amy
We understand that it can be difficult to come up with ideas on how to teach the cores standards during your read aloud time. You don't have to do it alone! We have made it easy for you to teach these lessons in your classroom. If you're interested, we've created over 45 kindergarten and first grade read-aloud lesson plans. You can buy each read-aloud individually, as a monthly bundle, or save a significant amount of time by buying the entire year-long curriculum.  -The Core Coaches
We'd like to send you a free interactive read-aloud that is easy to use in either a print or digital format!