DO YOU TEACH MORNING MEETING IN YOUR CLASSROOM?
A morning meeting consists of 5 components: message, greeting, reading, sharing, and activity. It's a time set aside to have conversations with the class that you otherwise wouldn't have time for.  It also allows for a time in the day when the teacher can let go, play, and have fun with the class during greetings and team building activities. Teachers and students connect in ways that are not possible during the school day. Preferably, morning meeting should be scheduled right after your students arrive for the day.  It typically lasts approximately 20-30 minutes. Scheduling the morning meeting at the first of the day is a way to help students transition from home to school. The whole class sits in a circle, which includes the teacher, for the entire meeting. The teacher's presence is crucial to ensure structure, build a climate of trust, make students feel significant, encourage collaboration, create empathy, and support social and emotional learning.
STUDENTS LEADING MORNING MEETING
We changed things up in our classrooms by having students lead morning meeting. Allowing students to lead morning meeting is a great way to teach responsibility and leadership skills. It also helps address important speaking and listening standards. It is a great way for the teacher to get more ideas on greetings, readings, and activities that they might not have done before during morning meeting.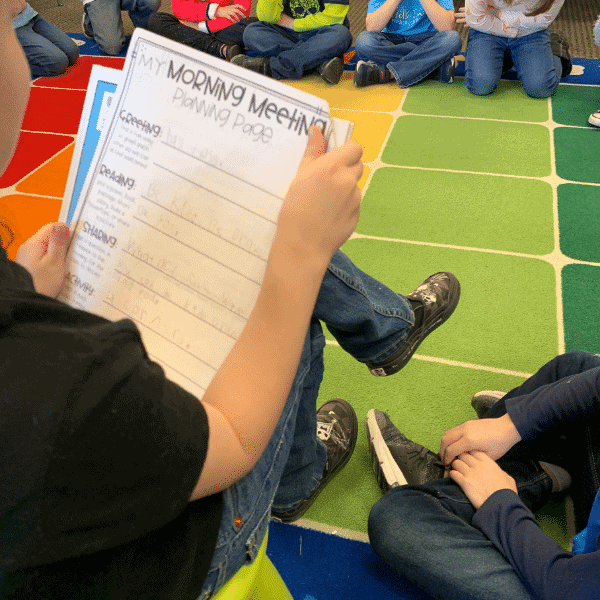 We recommend that the teacher leads morning meeting for the first month or more of school. This gives students the chance to become familiar with the morning meeting expectations and routines. There are so many fun greetings and activities you can do with your class during morning meeting. We provided 18 greeting and 18 activities for the teacher to teach during morning meeting to get students ready to be leaders of morning meeting. You can get more greetings here.
---
related article: classroom engagement strategies
---
Once morning meeting is established, the teacher should explain to students that they will have the opportunity to lead morning meeting. They will choose 4 components of the meeting at home and come prepared to lead the meeting on a given day. We talk about the importance of being a good presenter and what good presenters do. We make an anchor chart as a class and then we refer to it before each student leads their morning meeting.
This helps ensure students are speaking in a loud voice, speaking slow and clear, waiting until the class is quiet before talking, and explaining all instructions clearly. We send home letters to parents, morning meeting planning sheets, a suggested greeting list, a suggested book list for the reading (which we organized by month and theme),and a suggested activity list.
We have provided everything you will need to launch an effective morning meeting and everything you will need to allow students to be successful at leading morning meetings in your classroom. You can click on the image below to visit our Teacher's Pay Teachers store to learn more or to purchase this ready-made pack.
Related article: Classroom Engagement Strategies