As teachers we find ourselves regularly looking for classroom management tips. Especially after a long school break, such as after the New Year's Holiday, as it's a great time to put a renewed focus on classroom management. You may also like: Elementary School Students Note Taking Tips
What is classroom Management?
According to Edglossary, classroom management is defined as the wide variety of skills and techniques that teachers use to keep students organized, orderly, focused, attentive, on task, and academically productive during a class. To help you regain order and focus in your classroom for 2021, we've outlined 4 Smart Classroom Management Tips for your Elementary Classroom.
Have you been scrolling through Pinterest in search of new and creative ways to boost your classroom management skills and enhance your classroom culture? Read these classroom management strategies to keep students engaged. Also, you can read more about our 7 core teaching strategies and why classroom management is important article.
4 smart classroom management tips
1. Get students' attention quickly
Classroom management starts with getting your students attention. Attention signals are a necessary management tool to regain and redirect your students' attention. Many attention signals follow a call and response pattern where the teacher initiates the sequence and students react with a predetermined response. One of our class favorites is, teacher: "E.T." .. students: "Phone Home!" Read more about our classroom attention getters.
To avoid overusing one attention signal, pick a handful of structured routines that you love, teach them to students, and then be sure to mix it up throughout the day! 
Find
2. Transition smoothly between activities
Transitions are routines that are used regularly as a way to smoothly shift students from one activity to another in an effort to save valuable instructional time. Learn how to use classroom transitions that go beyond "quick and quiet." Efficient and effective transitions are THE most critical classroom procedures you can teach your students.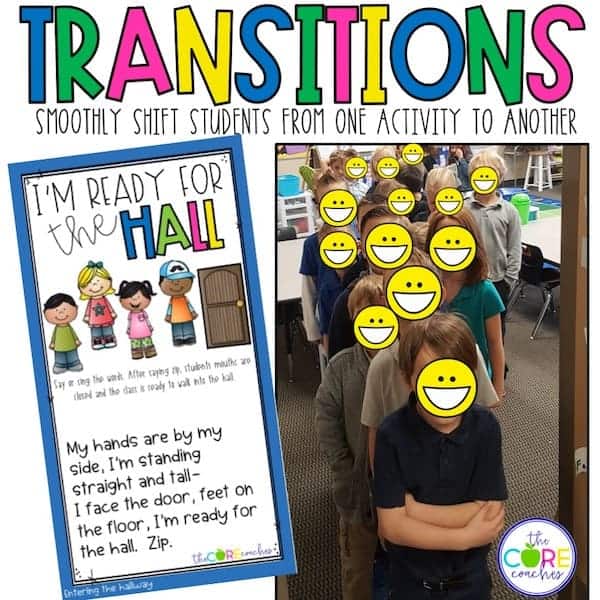 Effictive Classroom Transitions Strategies
Classroom management Tip #1, is to consider planning structured transition procedures for these times of the day:
Entering the classroom
Starting an activity
Changing activities
Exiting the classroom
———————————————————————————
You may also like The Anatomy of an Elementary Lesson Plan
———————————————————————————
3. Organize students in collaborative groups
Classroom management tip #3 is to create collaborative groups can be a daunting task for a teacher, but when students are constantly working in the same groups with the same students they become complacent and comfortable. It is a good idea for teachers to mix the groups up. Using grouping cards provides the teacher with a quick and easy procedure for grouping students. Learn how to quickly and easily change your collaborative groups with these fun with Grouping Cards.
4. Increase student engagement through acknowledgements
Our 4th classroom management tip is to help your students stay more motivated and engaged throughout the day by using positive reinforcements to acknowledge their positive behavior and academic achievements. Consider these times to acknowledge your students:
Say thank you
Celebrate positive behavior or cooperation
Recognize effort or perseverance
Reward academic performance
Praise individuals
Find classroom SHOUT-OUTS here.
Classroom Management Strategies Bundle