Classroom Attention Getters Provides Structure to Student Learning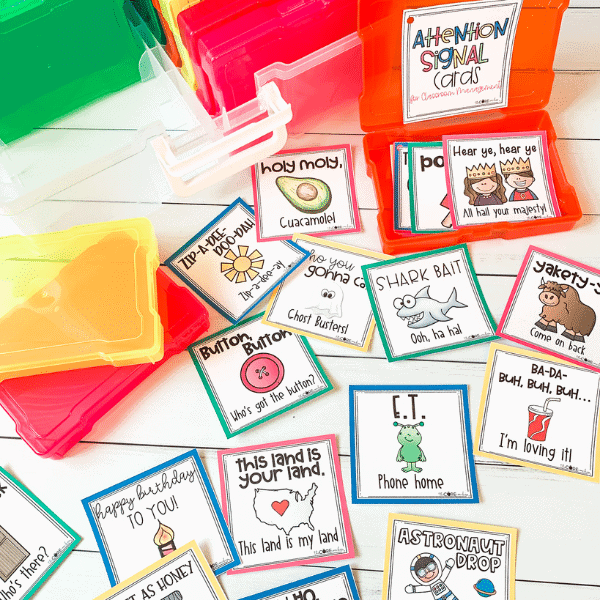 According to a study in 2013 by Erik Rosegard & Jackson Wilson classroom attention getters is a key component to learning. The article states that "Getting and holding attention is a critical aspect of learning." In my experience, I've discovered that classroom attention getters create a fun ways to transition between tasks. Furthermore, these transition activities help students feel a sense of community.
Each year I find one signal to regain my students' attention throughout the day. Last year, I would say "class, class" and they would respond "yes, yes." I fell into a routine of using the same attention signal all year long. My students started to dread the "yes, yes" response. Honestly, after the first month or two, they very seldom responded to it. And, if they did had responded, it would be with very little enthusiasm. I realized I needed to change it up because my classroom climate was diminishing.  Related Post: Classroom Management Tips
I started to brainstorm ways to positively rebuild my classroom climate. I wanted to find a way to recreate the high energy from our morning greeting. Also, I wanted to continue that energy throughout the day. So, I came up with 40 energetic Attention Getters that could be displayed so I could easily pick from different ones throughout the day.
These attention signals all start with an action initiated by me (the teacher). Then, the students immediately follow up with a reaction. Using this attention signal routine helped me create a structured and energetic way of engaging students. These attention getters immediately had a positive influence on my classroom culture.
Using this attention signal routine helped me create a structured and energetic way of engaging my students.
I promise these Attention signals are easy to implement during the school day and they are a positive way to regain or redirect students' attention. Many of these strategies follow a call and response pattern where the teacher gives a specific phrase and students respond in unison with the desired response. For example- the teacher calls, "E.T." and the students respond, "Phone home."
These 'Classroom Attention Getter' Activities Can Easily be Repurposed
I made the Attention Getters so they could easily be turned into a banner, a bulletin board, a ring, or put on a clip board for an easy at-a-glance reference. You can use the cards however you'd like! The important thing is they are located close by. You should be able to grab the cards quickly. It is the variety that helps to get and keep student's attention.
Examples of Classroom Attention Getters:
Teacher says, "Freeze!" Students stop in place and say, "Everybody, clap your hands!" then clap 7 times.
Teacher says, "Brush your teeth." Students use pointer fingers as pretend tooth brushes and say, "ch, ch, ch, ch" in a rhythm.
You can grab these structured and energetic ways to engage students and influence your classroom culture by clicking on the image below. You may also like our Anatomy of An Elementary Lesson Plan 
---
---