Thelma the Unicorn Read Aloud Lesson Plans and Activities
I discovered "Thelma the Unicorn" by Aaron Blabey at our school's Scholastic Book Fair.  I instantly fell in love with this darling story about learning to love who you are.  Thelma dreams of being a glamorous unicorn.  Then, in a fateful moment, a truck dumps pink paint and sparkly glitter all over her and her wish comes true. She instantly rises to stardom and thinks life couldn't get better.  Sadly, it doesn't take long for her to realize that being famous comes with a cost.  This story is adorable, but also meaningful.  Students love this fun, interactive read-aloud but also learn valuable life lessons along the way.
Thelma the Unicorn has a perfect structure for a "Somebody, Wanted, But, So, Then" graphic organizer.  After asking a set of questions about the key ideas and details of the story, students completed this graphic organizer.  Learn more about the importance of asking text dependent questions here.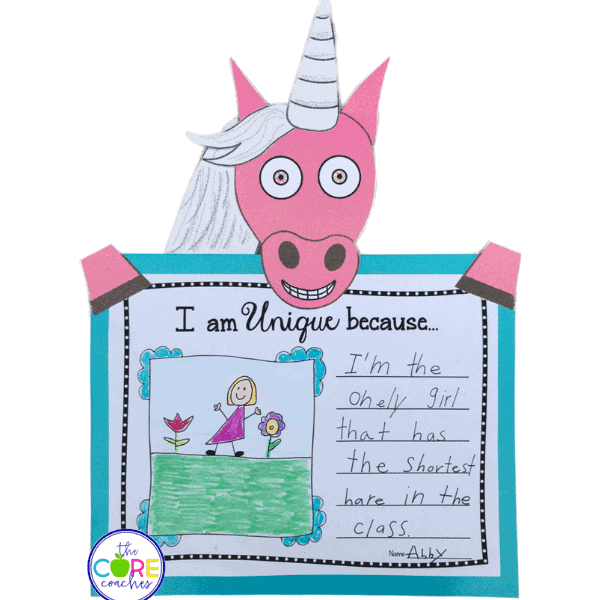 When I pulled out "Thelma the Unicorn"for the second read, my students couldn't wait to read it again. I asked text dependent questions on the craft and structure of the book, which segued into a great discussion about how Thelma's feelings changed throughout the story.  We revisited multiple key pages to find evidence in the text and illustrations to justify our thinking.   Each time we stopped, I used "turn and talk" to provide a structure for students to share their thinking with a partner.   Read more about my Rules of Conversation here.  After our rich discussion, my students were ready to complete the graphic organizer below.
For the final day reading "Thelma the Unicorn" we answered integration of knowledge and ideas text dependent questions and held a class discussion about the moral of the story.  I asked them, "What makes you unique?"  They turned and talked with a partner and then we shared ideas as a class.  Student then completed this writing activity.
You may also like: Creepy Pair of Underwear 
'Mother Bruce' Read Aloud  
I wrapped up this" Thelma the Unicorn" interactive read-aloud with a cute craftivity to attach to the writing page.  Students came up with some wonderful reflections about what makes them unique.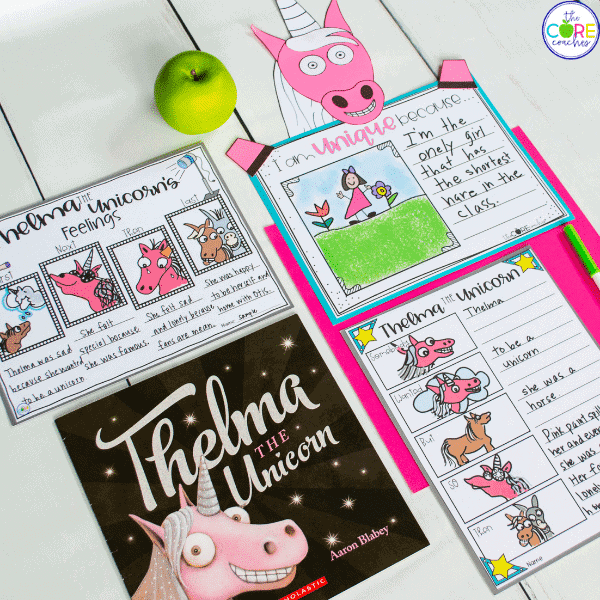 We understand that it can be difficult to come up with ideas on how to teach the cores standards during your read aloud time. You don't have to do it alone! We have made it easy for you to teach these lessons in your classroom. If you're interested, we've created over 45 kindergarten and first grade read-aloud lesson plans. You can buy each read-aloud individually, as a monthly bundle, or save a significant amount of time by buying the entire year-long curriculum. You can purchase our Thelma the Unicorn Interactive Read-Aloud by clicking here or on the image below.
✕
We'd like to send you a free interactive read-aloud that is easy to use in either a print or digital format!